PLAYGROUND PROTOTYPES
Project size: 150 m2 / 1615 ft2
Status: Design Development
Location : National Museum of Singapore
IN ADDITION to the exhibition, the National Museum of Singapore has commissioned a playground to be built on the plot of land outside of the building as a permanent installation to distinguish the monument in the Arts and Civics district as a space for gathering and play.

A rigorous exercise in the design of the playground was performed. Through exploring the significance of the installation, many iterations were produced that were inspired by the local heritage, identity, and history of the site and playgrounds in Singapore. Data was also collected during the exhibition to influence the design based on the public's response for what they wanted to see in the Museum Playground.

The structure is expected to be erected in 2019.
︎ THE MORE WE GET TOGETHER - EXHIBITION DESIGN
CONCEPT 1: THE BANYAN TREE
A large, aged Banyan sits heavily on the earth outside of the National Museum. Its countless years means that the hundreds of roots hanging from its branches have anchored it deeply into the soil, creating a vast crown with a solid base. This ancient, protected tree serves as the inspiration for the Banyan Tree Playground, where users are invited to move, hang, and swing through the different play structures, mimicking play in a forest of banyans.
ELEMENTS OF THE BANYAN -
1. SHADY CANOPY 2. HANGING VINES 3. WIDE, KNOBBLY TRUNK 4. LARGE ROOT STRUCTURE 5. WILDLIFE AND ECOSYSTEM - SNAKES, MICE AND FRUIT
Each element of the tree is re-interpreted and designed into an action for play- roots for sliding, the trunk for climbing, the canopy for rest, the ecosystem of fruits and animals for rockers and spinners, and the vines for climbing and mazes.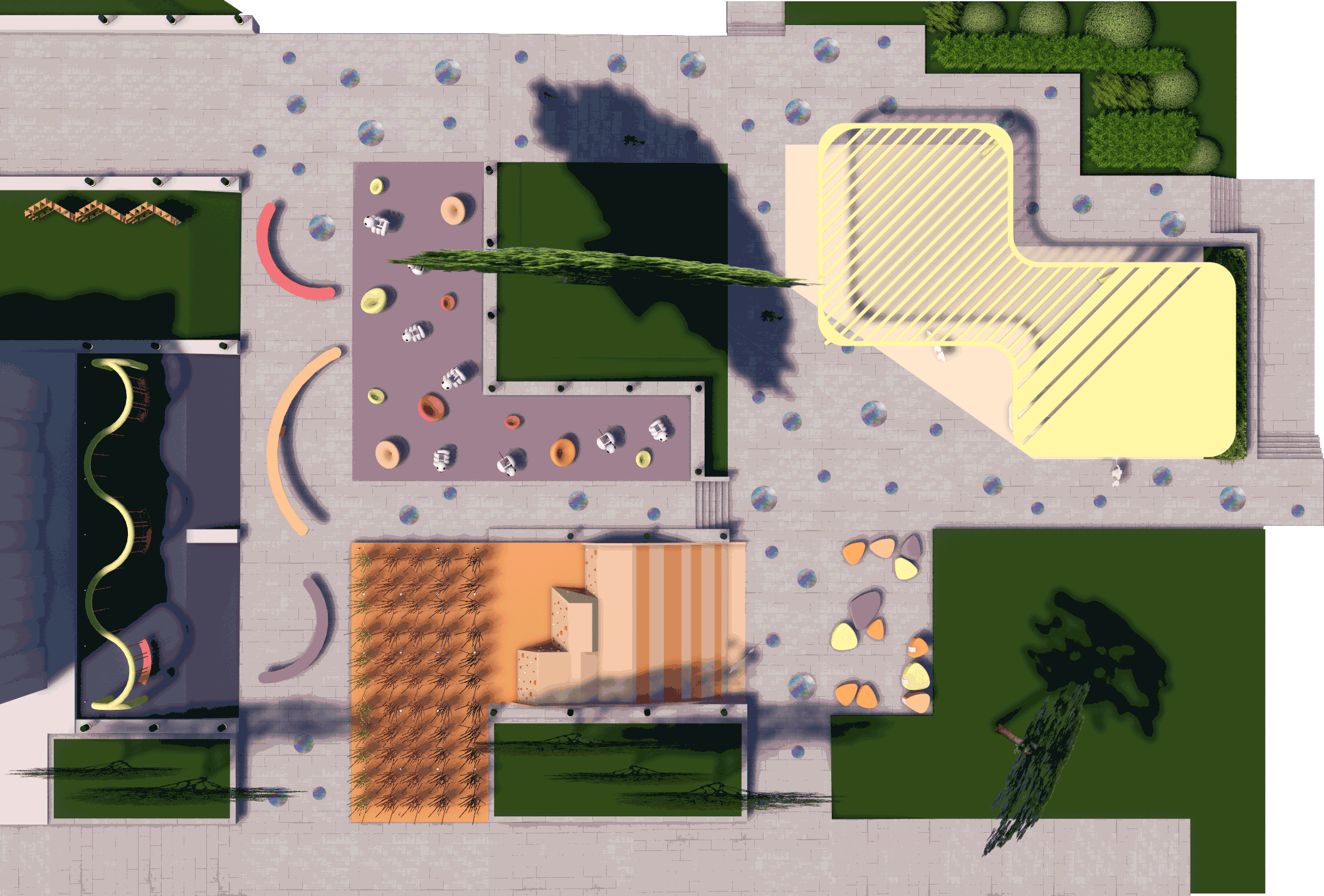 The integration of the natural landscape of the site into the design takes into consideration the changes in levels required for activities like climbing and sliding.
EARLIER ITERATIONS
Concept diagram for "The
Banyan
Tree"
3D rendering for "The
Banyan
Tree"
3D rendering for "The
Banyan
Tree"
CONCEPT 2:
MEMORY OF WATER

Fluidity and movement of liquid reminiscent of the old lagoons on Bras Basah Road, the street adjacent to the site. Singapore's history is brought to life through the stories told by the playground's multivalent structure, bringing cultural value and play a step closer together.
WHOOSH
Plan, Elevation & Isometric for The Memory of Water - Whoosh



WIRE WAVES

Plan, Elevation & Isometric for The Memory of Water - Wire Waves
CONCEPT 3: ANIMAL ICONICITY


Long have the playground structures in Singapore been inspired by animals, both real and mystical. The familiar tortoise and hare, the fantastical dragon, and many other animals, form the foundation of Singapore's iconic playgrounds. A modern take on Singapore popular animals such as the otter, for its islandwide fame, or the squid, or sotong, used in the local patois, creates a strong sense of cultural and national identity.
EXISTING ICONIC ANIMAL PLAYGROUNDS IN SINGAPORE


FRIENDS FROM THE OTTER SIDE

Plan, Elevation, Isometric for Friendly Otters

BLUR LIKE SOTONG Elevation and Isometric for "Blur like Sotong" - which means to be in a world of your own